One of the biggest reasons why most people do not take action after hearing about these strategies is there is no accountability or follow-up program. That's why the Real Estate Investment Network has partnered with Barry McGuire, and together they have minted the best creative real estate program imaginable!
Register Now
The Rapid Cash Flow Program (RCP) will give you access to everything you require to succeed in 'quick-turning' properties – creating an infusion of cash flow into your bank account. This 6-month coaching program will not just be a listen, absorb and learn through osmosis program. 100% of the program's focus will be implementation and getting you to increase your cash flow... and fast.
Success in this hands-on Rapid Cash Flow Program comes down to the following 3 Pillars - ALL included in your tuition:
At The RCP Quick Start Focus Workshop, we'll take you step-by-step and moment-by-moment through the process of finding, structuring, and negotiating actual deals with real live people... right there in the workshop.
This isn't two days of boring lectures, or even high-energy pep talks. Instead, this event contains behind-the-scenes secrets you'll uncover by getting fully involved in the process.
At the 2 day event, there will be experts on site, with the sole intention to close your deals. As part of the pre-event homework you will be contacting For Sale By Owners (FSBO's), and filling out the Deal Lead Sheet. If you have a deal in the works, but do not know what to do next, the experts on site will call your FSBO's with the goal of closing the deal for you… leaving you with the profits.

Just think you may walk away from this event with a deal in the works that will more than pay for you investment in the coaching program.
Just think, you will listening 'over the shoulder' while the experts talk to your potential sellers on the phone so you can hear every word of the negotiation process and learn EXACTLY what to say when you're doing this yourself!
There is NOTHING in the Canadian real estate training market that even comes close to this level of one-on-one, specific, expert instruction.
Over the course of two days, you'll literally be transformed into one of the most confident and knowledgeable real estate transaction engineers in the country!
And you can turn that expertise into rapid CASH in just a matter of weeks or months after the event.
This incredible home study package will allow you to take all the information you gain at The RCP Quick Start Focus Workshop , and review it again and again, at your own pace!
It includes...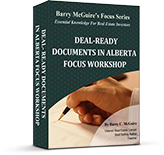 Deal-Ready Documents.
Get your hands on Canada-specific, expertly prepared legal documents for all the deal strategies you learn at The Quick Start Focus Workshop --PLUS, instructions on how to use them!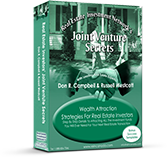 Joint Venture Secrets.
This powerful home study course will help you attract willing JV partners so that you can use other people's money to fund all your real estate investing dreams for the foreseeable future.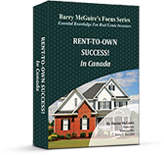 Rent To Own Success in Canada
Home Study Kit.
Need a refresher on how to complete those fantastic Rent To Own deals?
Rent-to-Own Success
includes all the training and details--so that you have it at your fingertips.
Updated Agreements.
Every single document has been updated to work in TODAY'S legal climate. As part of your home study package, you get the most recent templates to use immediately in your real estate investing business... over 15 hours of Barry's time has gone into updating these documents – at $500/ hour, you can do the math on the value of these documents.
What's the difference between investors who struggle and investors who succeed? The Accountability and Support Program. Often, having someone to help coach you through your first few deals is all it takes to make sure you effectively implement the techniques you have learned.
So we've decided to add an accountability and support package to this program that is worth the price of admission alone--ongoing support and help for six months is included in The Rapid Cash Flow Program so that you can be sure you're getting the most value out of your training! This bonus package includes...
6 LIVE conference calls over six months. On a monthly basis, in a small group setting, our expert investment team will get on the phone with you, answer your questions live, and provide additional insight and training so that you can put your knowledge to use in the most profitable way possible.
18 recorded conference calls over six months. In addition to the more than 24 hours of live training and the additional 6 live conference calls, you will have access to an audio library of more than 20 hours of recorded conference calls… topics which include:

Post live event detailed action plan- the critical steps
Buying properties while travelling the world
Using fear of the unknown to propel you forward
The foreclosure process
Tax, accounting and ownership structures
Joint Venture advanced topics
Live deal analysis
Insider marketing strategies
Using a credit coach to close your RTO deals
And more…

Unlimited email support. Have a deal you'd like help analyzing? Wonder if your marketing materials will be effective? Is there an unexpected question that has arisen in your negotiations with a tenant buyer or seller? As a participant of the program, you have six months of unlimited email support with our real estate experts so that you can ask any question and receive specific, one-on-one feedback to help you make the right decisions.
Deal review. Want to have your deals completely reviewed before you sign your name on the dotted line? Don't make an avoidable, costly mistake! For six months, submit as many deals as you'd like for full feedback from our expert team.
Marketing review. If you're about to pay for ads to attract JVs, tenant-buyers, or motivated sellers, take advantage of a professional marketing consultation and make sure the material you're presenting will attract the people you need.
Access to the rcpsuccess.ca website- An online community website designed to ask your questions, share your insights and learn from the experts who are actively working real deals in real time.
Legal consultation session - Barry is even including some of his valuable lawyer time free of charge. Barry normally charges $500/ hour for this service
No stone has been left unturned in creating this program.
You have:
A live quick-start implementation workshop, designed to get you going right away.
Detailed home study programs to further enhance your confidence and clarity.
And, a follow-up support and accountability program, designed to guide you every step of the way.